COURT SAYS ARBITRATION AGREEMENTS CAN BE MANDATORY CONDITION OF EMPLOYMENT
Last week, in a long-awaited decision, the Ninth Circuit Court of Appeals gave California employers a win in ruling that California employers can, once again, mandate arbitration agreements as a condition of employment.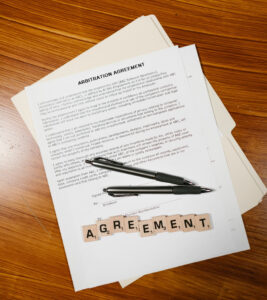 The issue of whether arbitration agreements could be mandatory or had to be voluntarily entered into between employer and employee is an issue that has been pending for several years.
In 2019, Governor Newsom signed Assembly Bill 51 (AB 51) into law which would have made it unlawful for California employers to mandate employees agree to arbitrate claims pursuant to California's Fair Employment and Housing Act or Labor Code whether as a condition of employment or in consideration for the receipt of any other employment benefit, even with an opt-out provision. In addition AB 51 provided that violations of the law could lead to civil and criminal penalties and would be considered an "unlawful employment practice."
In 2019 U.S. Chamber of Commerce challenged and successfully obtained an injunction which prevented the enforcement of AB 51.
In 2021, a three judge panel of the Ninth Circuit reversed the injunction and partially upheld AB 51, finding that the Federal Arbitration Act (FAA) did not completely preempt AB 51. Then, in August 2022, the Ninth Circuit panel withdrew its prior opinion to reconsider the law's legality.
Now, the same three judge panel changed its mind and struck down its prior ruling. The Ninth Circuit upheld the injunction against enforcement because it was contrary to the Federal Arbitration Act's ("FAA") policy of encouraging arbitration of disputes. (Chamber of Commerce of the United States of America v. Bonta).
The Court stated that AB 51's penalty-based scheme to inhibit arbitration agreements before they are formed reflects the type of hostility to arbitration "that the FAA was enacted to overcome." The panel concluded "Because the FAA's purpose is to further Congress's policy of encouraging arbitration, and AB 51 stands as an obstacle to that purpose, AB 51 is therefore preempted."
In light of this new decision, employers are now free to resume requiring employees to execute arbitration agreements as a condition of employment—with or without opt-out provisions. Employers who have "voluntary" arbitration agreements with their employees may wish to present revised agreements providing for mandatory arbitration as a condition of employment.
Of course, California could seek a review by the full Ninth Circuit or the U.S. Supreme Court and seek to reinstate AB 51. However, many believe that with the pro-arbitration position recently taken by the U.S. Supreme Court in the 2022 Viking River Cruises, Inc. v. Moriana case, further review before a higher court would be unlikely.
Employers are reminded that mandatory arbitration of sexual harassment or sexual assault claims is still prohibited. The decision in U.S. Chamber of Commerce v. Bonta does not affect the amendment to the FAA which prohibits mandatory arbitration of employee claims of sexual harassment or sexual assault.
---
This Newsletter is intended as a brief summary of employment law. While every effort has been made to ensure the accuracy of the information contained herein, it is not intended to serve as "legal advice," or to establish an attorney-client relationship. If additional information is needed on any of the topics contained herein, please contact our office. All rights reserved. ©2023